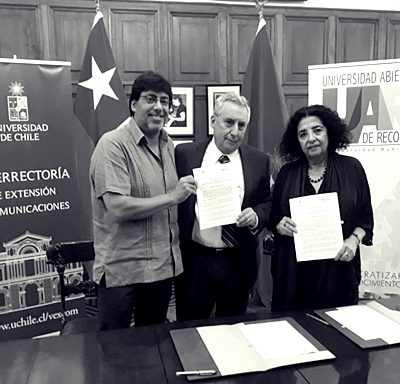 THE UNIVERSIDAD ABIERTA DE RECOLETA HAS DEVELOPED A STRATEGY TO GENERATE ALLIANCES ON A NATIONAL AND INTERNATIONAL LEVEL THROUGH  DIFFERENT COOPERATION MECHANISMS TO OPEN  ITS DOORS, STRENGTHEN THE AREAS IT WANTS TO FOCUS ON AND GENERATE INSTANCES FOR THE EXCHANGE OF EXPERTISE AND EXPERIENCES.
On a national level, traditional universities and other education and cultural organizations, public or private, are natural and key allies for the design and execution of initiatives that complement the academic, research and outreach programs at the UAR. This has been shown through the alliances and our work with the Universidad de Chile, the Universidad de Santiago de Chile, the Universidad Academia de Humanismo Cristiano, Fundación Chile 21, among others.

Additionally, the UAR fosters international cooperation actions focused on searching for collective solutions, creating synergies and building networks and favoring South-South Cooperation, as well as the tools offered by public diplomacy, in order to push common agendas looking towards the compliance of the Sustainable Development Goals (SDGs), the generation and democratization of knowledge put at the service of committed communities in the process of transforming their lives. Therefore, through technical missions and partnership agreements, the University will nourish itself from the experience, and the good practices implemented by the open and popular universities worldwide, as well as other likeminded organizations.

On an international level, we have formed alliances with UNESCO, UNICEF, Save the Children (UK), the Rosa Luxemburg Foundation (Germany), the Universidad de Coímbra (Portugal), the Federación Española de Universidades Populares (Spain), the Transnational Institute (Netherlands), to name a few.