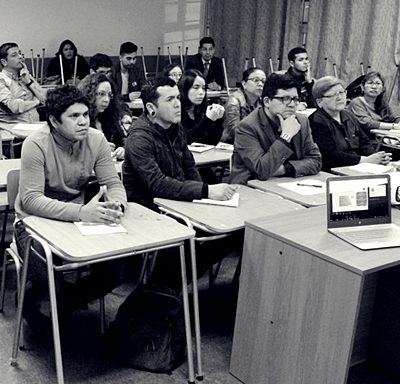 THE EDUCATION MODEL OF THE UNIVERSIDAD ABIERTA DE RECOLETA RELIES ON PEDAGOGICAL INNOVATION AS THE HALLMARK OF THIS TEACHING METHODS.
As a policy, all of the UAR's academic activity is non-commercial, popular, democratic, reflective and critical, geared towards knowledge that delivers tools for change and social transformation of citizens, with social justice, pluriculturality, equal opportunities, that is inclusive and participative.

The pillars of the UAR's education model are critical pedagogy, constructionism, and connectivism. Its main components are participative methodologies, non-standardized assessments, educational communities and strong links to its communities.

The UAR focuses its education project around five main areas: health for a better livelihood, arts, culture and humanities, science and new technology, work training, and interculturality and migration.

It is worth noting the growing number of teachers that have joined the UAR since its inception. They are from Chile and abroad, and all of the highest academic and professional levels. They carry out their work on a completely voluntary basis. Their expertise, dedication and common dream for social transformation are key factors that make the UAR's project possible.

Up to the first trimester of 2021, more than 40 thousand students, from Recoleta, Chile, Latin America and the Caribbean, and other parts of that world, have participated in the UAR's courses, workshops and training programs.

The UAR's education program takes on the following forms:

Live Courses
Live courses take place in schools and other educational buildings belonging to the Municipality of Recoleta, in the evenings from Tuesday to Thursday, and on Saturday mornings. The courses are from 8 to 10 weeks long. Due to the pandemic, these courses are not being held live, but online, in order to safeguard the health of students, teachers and collaborators.

Semi-online Courses
Semi-online courses combine on-site classes with digital resources. At least 50% are not on-site. This allows for a more broadened and enriching course, giving students the opportunity to experience both types of learning formats.

Online Courses
Online courses are 100% off-site. They include the development of learning material (video classes, interviews, tutorials, among others) specially produced by a UAR team of education audiovisual professionals for each course. The courses allow for debate and the critical building of knowledge, via forums, case analysis and a final course project.

Community Action Workshops (TAC)
Community Action Workshops are focused on subjects that take into consideration the daily needs of the local community, as well as those of interest on a national and global scale. Through live video classes, videos, academic interviews and readings, these workshops look to cover the practical needs of the community and communal organizations.

Virtual Classroom Courses (CSV)
Virtual Classroom Courses take place on the UAR education platform Ucampus. These courses take on a small number of students that allow for direct interaction between student and teacher during at least one live online class a week.

Other formats
Because internet connectivity is not available to a large part of the Chilean and the Latin American population, and so this does not become a barrier towards democratizing education, the UAR is creating courses that can be downloaded or in radio format. The UAR forms an integral part of the demand, in Chile and abroad, that requires states and governments to take action towards making connectivity a right and a reality on a global scale.

The Academic Department of the UAR is responsible for putting forward, designing, producing, convening, executing and evaluating all its courses. To further its efforts, it has entered into collaborative relationships with national and international organizations that allow for improving the quality of its teaching, its coverage and scope of its programs. Among these, we highlight our relationships with UNICEF, UNESCO, the Universidad de Chile, the Universidad de Santiago de Chile, the Fundación Chile 21, Save the Children, the Universidad Católica Silva Henríquez, plus other social organizations that cover topics such as feminism, the arts and culture and politics.