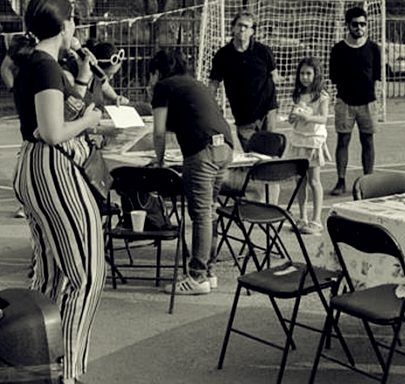 THE UNIVERSIDAD ABIERTA DE RECOLETA HAS A ONE OF ITS OBJECTIVES THE PROMOTION OF GENERATING A DIVERSE RANGE OF SCIENTIFIC RESEARCH PROJECTS, WITH A SPECIAL FOCUS IN THE THEMATIC PRIORITIES ESTABLISHED BY THE UNIVERSITY'S INSTITUTIONAL STRATEGIC PROJECT. IT ALSO AIMS AT POSITIONING ITSELF AS AN OPEN ARENA FOR YOUNG RESEARCHERS THAT USUALLY DO NOT FIND A SPACE IN TRADITIONAL UNIVERSITIES. 
The Research Department permanently drives innovative forms of collaboration with universities, and the academic world in general. Depending on each project's needs, the UAR allows researchers access to communal information and different municipal departments and services in Recoleta, plus access to social and community organizations.

The professional team of researchers at the UAR will collaborate in the different stages of the research project, offering technical and logistical support in its methodological design, data collection and analysis, and the publication of the project's results in the community in Recoleta, the academic world, the public sector, civil society and the public at-large, through audiovisual productions, seminars, talks and other activities, live and online.

INTERNAL PROJECTS
These consist of research projects on strategic issues, directly implemented by the UAR's Research Department, by its own initiative or in collaboration with a particular department of the Municipality of Recoleta.

At the moment we are working on two research projects:

• The Evaluation of Recoleta's Popular Pharmacy Program
This project seeks to systematize the implementation of the Municipality of Recoleta's Popular Pharmacy Program, determine its impact on household expenditure, on timely access to pharmacological treatments and the development of an innovative strategy in municipal management that sees to the basic needs of the population and optimize the use of its resources.

• Identify Persons with Disabilities in Recoleta
This is a study developed between the Department of Communal Development (DIDECO) of the Municipality of Recoleta and the UAR. It looks to establish the main characteristics and needs of the disabled population in the community, as a platform to design and improve existing public policy and communal initiatives for them, and their immediate environment.

OPEN PROJECTS
These are projects designed and carried out by educators, teachers and collaborators of the UAR, via open calls. The UAR's Research Department coordinates these calls and is in charge of monitoring the projects, mobilizing the University's technological and professional resources, coordinating the relationship with the Municipality, social and community organizations in Recoleta and other institutions linked to the UAR.

At the moment, 10 of these projects are under way on the issues of Health, Education, the Arts and Humanities, Interculturality and Plurinationality, Economics, Politics and Society, the Sciences and Technology and the Environment.