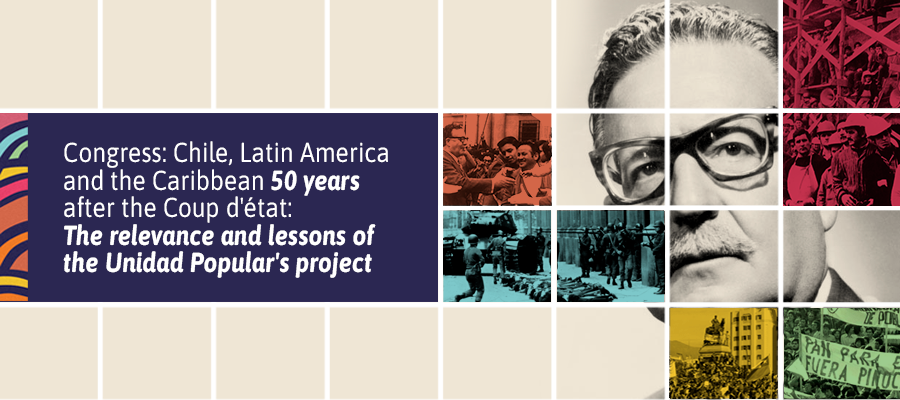 On September 11, 1973, the utopia that germinated in Chile with President Salvador Allende's Unidad Popular government was razed to the ground with fire and blood. The coup d'état shut down this emancipatory cycle giving way to a period of ignominy and oppression.
Fifty years after the coup, in the face of the enormous challenges of our time, we believe that it is urgent to reflect, debate, assess and remember that tragic moment in Chile's history. It is with this in mind that we organize the Congress «Chile, Latin America and the Caribbean 50 years after the Coup d'état: The relevance and lessons of the Unidad Popular's project.»
This Congress seeks to build a space for the meeting and interaction between the traditional academic world and the growing world of research and popular creation, to promote the free exchange of knowledge between researchers, artists and creators, social leaders, secondary and higher education students, citizens, workers, representatives of indigenous peoples and social movements, groups usually excluded from these types of arenas.
How to submit proposals
The Congress will be held in two forms: in person and online. In person activities will take place in the commune of Recoleta, located in Santiago, Chile, and presentations made from other cities and countries will be online. Persons of any educational level may present their proposals, regardless of academic degrees or professional titles.
Proposals may be presented in five formats: 1) texts, 2) oral narrative, 3) exhibition of works and visual works, 4) audiovisual works and 5) panels.
These will be organized into three panel discussions according to the following themes: a) The Unidad Popular: the relevance of the transformative project; b) The civil-military dictatorship: state terrorism and popular resistance. Memory and Human Rights; c) The neoliberal model and the dictatorial legacy in Chile today.
For further details regarding the rules and terms of the Congress and how to submit proposals, please click on the corresponding button.
Frequently Asked Questions
1. Is there a cost to attend or participate in the Congress?
No. Attending and/or participating in the Congress is free of charge.
2. If I attend the Congress as a member of the public, do I have to register?
We will soon make a registration form available for those who wish to attend as a member of the general public.
3. Where will the Congress take place?
In Santiago, Chile, in different locations in the commune of Recoleta. These will be informed in a timely manner.
4. If I am outside Santiago or Chile, may I present at the Congress?
Yes. As long as you follow the registration procedure and send your proposal on the assigned dates, you may present at the Congress. The Congress will also be online for those that cannot attend in person.
5. If I am outside Santiago or Chile, is there financial assistance, sponsorship or per diem available for me to participate in person?
No. The Congress does not provide financial assistance for those who participate. A presenter who is not in Santiago and wishes to appear in person, may do so of their own accord.
6. Will I receive any type of certificate for presenting at the Congress?
Yes. Once the Congress is over, certificates will be made and delivered in a timely manner to the people who present in any of the five formats.
7. If I present in person, will I be able to present in PPT format or similar?
The Congress production team will contact you to enquire about your technical requirements and their feasibility, taking into consideration the Congress' different sections and formats.
8. Is there a limited amount of proposals I can present?
There is no limit. The only requirement is to register and send your proposal within the established deadlines in the calendar.
9. Is there a limit to the amount of people that may attend as general public?
It will depend on where the Congress is held.
10. In the event my proposal is selected, and for whatever reason I am unable to present, will I receive a certificate anyway?
No. Certificates will only be given to those who actually present, in person or online.
11. In the event that I cannot show up on the day or at the originally assigned time, can I request a change of date and time?
Some exceptional cases will be taken into consideration.