The pedagogical model used by the UAR is based on critical pedagogy, constructivism and connectivism. Each semester a free of charge formative program is made available to Recoleta, Chile and the world, in face-to-face and virtual formats, that aims to share knowledge from a critical, de-commodified and counter-hegemonic perspective.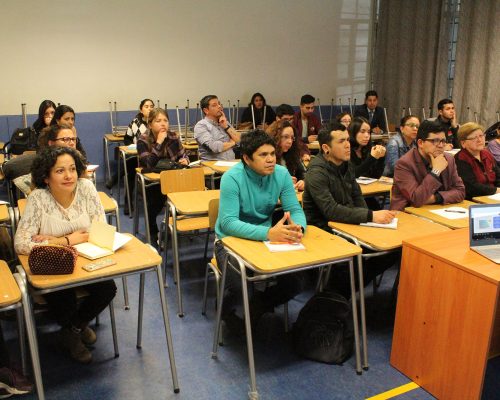 The Universidad Abierta de Recoleta's Academic Department is in charge of all the teaching programs, articulating the organization, production, implementation and evaluation of such programs, in accordance with the standards established by its foundational and strategic principles.
Knowledge and reflection are encouraged, developed and shared with the view to contributing to the communal, national and global debate on new paradigms for non-commodified educational processes.
The UAR's educational programs are distinct from that of conventional universities. The multi-university perspective that guides it fosters an ethical-political heritage contrary to cognitive and colonial capitalism. Thus, teachers and students are invited to build knowledge for change and social transformation, expressed in a citizenry of rights, with social justice, multiculturalism, equal opportunities, inclusion, participation and the deepening of democracy.
This vision stimulates and promotes collaborative and mutually beneficial collaboration between the pluriversity and the universities and entities with which it works in one or more components of the aforementioned ethical-political heritage.
Since its foundation, more than 1,000 docents have created around 500 formative programs, which have been taken by about 120,000 individuals in Recoleta, Chile and the world.
Modes of learning
The UAR develops different pedagogically designed courses:
Face-to-face Courses
These courses take place in the commune of Recoleta, in social headquarters and educational establishments. The didactic methodology emphasizes dialogue, debate, and active participation in the construction of learning.
Digital Courses
These courses incorporate video classes, interviews, tutorials, forums, conversations, evaluations, among other resources, produced by the UAR's professional and technical teams, specialized in multimedia education.
Virtual Room Courses
These courses are carried out 100% remotely and incorporate a series of texts, forums, and audiovisual material.
Other Formats: Off-line and Radio
Taking into account that connectivity and internet access is not yet available for a large part of the population in Chile, Latin America and other parts of the world, the UAR produces offline and radio versions of its programs, so this does not constitute a barrier in the democratization of knowledge.