The Universidad Abierta de Recoleta seeks to develop various research projects, with special emphasis on issues that contribute to the construction of politically democratic, socially inclusive and environmentally sustainable communities, forged in the collaborative work with the local government.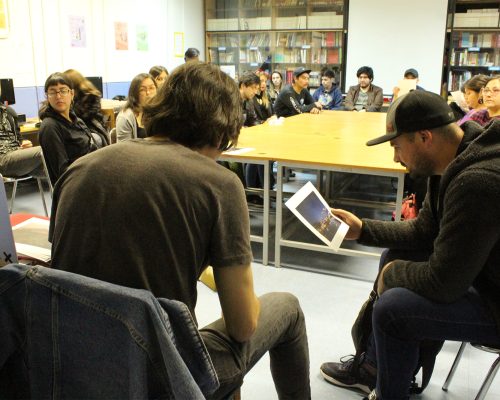 To achieve this, the UAR has implemented innovative collaborative strategies with conventional universities, and with the academic and social world in general, in order to promote, support or directly execute different research projects.
The UAR Research Department is made up of the following units:
Local Public Policy Center
Develops studies on subjects that contribute to the design, implementation and evaluation of innovative municipal policies, plans and programs with strong social impact.
Media Studies Center
Develops research and analysis on the role of the media and social networks, trying to reveal its impact in public debate and its political development.
Coordination of Open Projects
Provides a space for the collaborative development of research projects designed and carried out by national and international academics who are linked to the Universidad Abierta de Recoleta within the framework of public academic open calls.
Institutional Analysis Unit
Manages the different sources of information of the Universidad Abierta de Recoleta to prepare reports and studies for internal use, aimed at systematizing and evaluating its general performance, generating indicators or other inputs that contribute to its management and monitoring its strategic institutional development.
Research Policy
Unlike conventional universities, the research projects developed by the Universidad Abierta de Recoleta do not seek to generate an impact in scientific or academic fields, at least under the parameters by which this is currently understood. Its objective is to produce real change in the lives of people and local communities, strengthen municipal management and promote social transformation and community empowerment. Research projects are oriented according to the following principles:
Promote action-research projects that generate products and/or activities that have an impact on the community and are linked to the territories, beyond academic productivity.
Open to all types of research and areas of knowledge. However, projects that contribute to the UAR's and the Municipality's achievement of its strategic objectives are given priority.
Foster interdisciplinary and/or transdisciplinary research, making it possible to address relevant issues from different approaches and perspectives.
Incorporate the community in the entire research process, from the definition of the objectives and methodologies to be used, to the validation and dissemination of the results with the community.
Always incorporate a gender perspective, from forming research teams, to the consideration of gender variables and an intersectional approach in the analysis and presentation of results.